My personal TBA favorites from August 3, 2011 :
Cat on Pumpkin Personalized Halloween labels (L)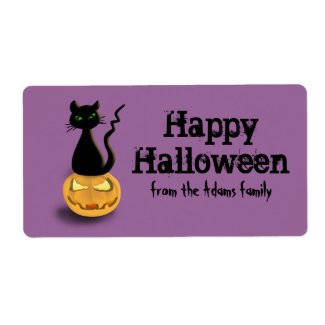 Cat on Pumpkin Personalized Halloween labels (L)
by
bigspl
Shop for a
shipping label
at zazzle.com
Personalise with your own text | A black cat sitting on a spooky pumpkin. Personalize with your own text, or click customize for more options.
Created By bigspl
Artist Profile:
About Me:
Vicki - I am a photographer, graphic artist and jewellery designer based in the UK with a love for nature. I hope you enjoy my gallery. You can join me on facebook to keep up to date with my new photograpy and art designs. If you would like to see my jewellery it is available at my website or drop by my jewellery facebook page Find me on twitter @inspira to see what I'm working on right now, or just to say hi!
LOVE Electrified Doodle Speaker
LOVE Electrified Doodle Speaker
by
Brownielocks
Browse other
Love Speakers
We've got "love" all colorful and vibrative in this design. It could represent love of music, love in general or given as a gift to someone special.
Created By Brownielocks
Artist Profile:
About Me:
Sheila Cicchi - I am the girl that was always chosen last on the team. I've never been athletic and in school got D's and F's in Swimming and Gymn (required classes in my school.) Thus, that always screwed up my GPA. :( But, I've always loved art and being creative. Through the years, I've dabbled in many mediums, but lately I've come to like digital art and watercolors. I am a Ham Radio Operator with a "General Class" license at present. (Someday, I'll get that "Extra" class!) And, so I've blended both art and radio activities to create some products that I think are unique and cutting edge from the traditional items offered. I am also the webmistress of "Brownielocks and The 3 Bears" which has been online for over 10 years and is very popular, especially with the crazy, silly, bizarre, dumb holiday lists I keep accurate and updated annually. The entire website is done with my own creative artwork, which I'm now extending over into products here that I feel are not the status quo and have a unique personality to them. In the past I've also done ventriloquism. And, I am also a licensed literacy instructor. Learning new things and being creative are what gives me daily joy, besides knowing Jesus.
Sleeping Miniature Pinscher dog Iphone 4 Skin
Sleeping Miniature Pinscher dog
by
Character_Company
Browse other
iphone 4 cases
Black & white closeup photograph of Miniature Pinscher Puppy sleeping on the deck. Created By
Character_Company
Artist Profile:
About Me:
Karin Boris - I'm a self-taught artist that married a self-taught carpenter and together we became self-taught business owners of a really awesome specialty sign & custom menu board business. We started out making country craps (ooops, I mean, craFts) and selling them in our own country shop back in the 80's but one thing led to another and we found ourselves helping other people promote their business & get noticed. We began with hand-painted 7ft tall character sidewalk signs (hence, the name Character & Co.) which led to interior custom menu boards and then on to large-scale wall & window art & murals. We've worked with (probably/definitely!) over a thousand small mom&pop type businesses as well as large companies such as ShopRite, Foodtown, Nathans, Trump, and Sedutto Ice Cream. Our Character & Company work is known for its PERSONALITY, charm and wit. We have a very extensive portfolio to see if you'd like to take a gander. And if you know of a business that could use our services, please refer us. (make sure they remember to mention you and we'll send you something charming, witty, FREE and Character-ish!) I'm not much of a techie, so any online referral stuff would be great! I'm developing several other Zazzle shops here for other creative tangents. One is at MonstieMomma and the other LittleGirlies. Visit them when you get the chance.
Unicorn Skeleton Art Pendant
Unicorn Skeleton Art
by
Mythiskulls
View more
Unicorn Necklaces
Cool unicorn skull art by Brenda Boo. If you or someone you love loves unicorns and mythical creatures and horses than this is a perfect gift. Contact me for custom changes to any design brendabooart@gmail.com. All images are copy written and it is illegal to take images off of this site. © Brenda Boo All Rights Reserved
Created By Mythiskulls
'Ripples of Love' skateboard deck
Created By SBricker
Artist Profile:
About Me:
Scott Bricker - owner / designer / flunky ~ Organic Environmentals (organic / nontoxic landscape design & installation) education~ aeronautical engineering & studio art (painting, mostly)
Artistic Interests:
If you have any comments concerning products, quality, suggestions, etc., I (Scott Bricker ) can be contacted at : sbricker@seriousfunstudios.com or 'send message'~ Thanks! I hope you find something that pleases...
If you would like to purchase any of these award winning items, just click on the image you like and you'll be taken to Zazzle to purchase Most of these designs are also available on other products.