My personal TBA favorites from August 24, 2011 :
Shooting Star Avery Binder
TBA Shooting Star Avery Binder
by
expressyoursoul
Browse other
Shooting stars Binders
Created By expressyoursoul
Pink Vector Hearts 3 Ring Binders
Pink Vector Hearts
by
zazzlekreationz
Make a
custom printed ring binder
online at zazzle
Created By zazzlekreationz
Counundrum I – Rainbow Woman Vinyl Binders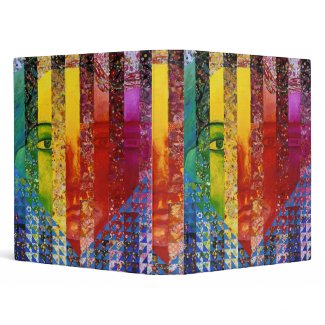 Counundrum I – Rainbow Woman
by
DianeClancyGoddess
Create a binder online
using zazzle
Open the Door to your Soul - Conundrum I is a painting that opens the door to the soul. This image looks deep within you and allows you to look within yourself. Conundrum I is a fabric and paint collage inspired by quilting. This rainbow colored woman's face is created with alternating columns of fabric and acrylic paint, changing between light and dark. One column will go from dark at the bottom to light at the top and the next one will be the opposite. The face is painted with green, yellow, orange, red and violet. The strips made of fabric are created by cloth with the same color as the face so it is both seamless and separate. The woman's face is actually a double face – the right side is stretched into a second face. The left eyes are jade with some lemon. The right set of eyes starts with crimson and moves into plum. Her hair has 2 strips of emerald and purple. The rest of her tresses are little pieces of quilting fabric – white with gold, pink, magenta, fuchsia, lavender, coral and rose. The bottom part of this art consists of triangles of fabric – the bottom half of each tiny square has a blue, ultramarine or cobalt triangle, angled toward the middle of the artwork. The upper half of each little cube is either white or black fabric with flowers that match the color of the strip that piece of fabric is in. Conundrum I is part of Diane's goddess series. The depth and awareness you receive from this painting creates inner peace. You will experience peace, serenity and healing as you look at Diane's work. Bring this oasis into your home for yourself and to share with others - whether next to your computer on a mouse pad, mug or a shirt, tote bag, iPhone cover, card or on your living room wall. This image is original and copyright protected. This image may not be reproduced, saved, altered or used in any way without written permission of the artist.
Created By DianeClancyGoddess
BoomBox Buttons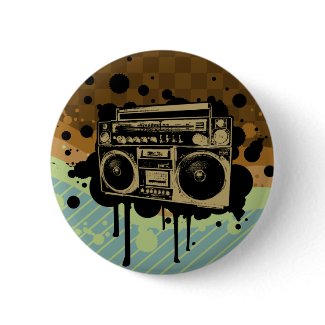 BoomBox
by
Middlemind
Become a
graphic design affiliate
for Zazzle.
BoomBox is the perfect way to show off your edgy, urban style!
Created By Middlemind
Cute Green Baby Dinosaur Pinback Buttons
Cute Green Baby Dinosaur
by
JKLDesigns
Browse more
Cute Buttons
Created By JKLDesigns
Peace Coaster
Peace Coaster
by
rosiesrealm
View other
Peace Coasters
A lovely peace coaster. Design © rosiesrealm at www.justbyjulie.com
Created By rosiesrealm
If you would like to purchase any of these award winning items, just click on the image you like and you'll be taken to Zazzle. Most of these designs are available on more products.