My personal TBA favorites from August 7, 2011 :
Coupon binder with colorful dollar signs
Created By TheStationeryShop
Simple Flowers pink Be My Maid of Honor Card
Two pink tulips, perfect for a fun wedding. ALL TEXT IS FULLY CUSTOMIZABLE Check out SIMPLE FLOWERS pink THEME for all the matching products in this design and SIMPLE FLOWERS pink for all the matching gifts & party favors!
Created By floatinglemonsevents
Lava Lamp Floral Retro Doodle Speakers
Violet and Gray colorway |Morphing flowers look like the oil in a lava lamp and take you back to the days of flower power and the 1960's and 1970's. Abstract flowers travel through a psychedelic adventure in this retro neckwear design. These designs come in several colorways.
Created By DriveIndustries
Rosa Canina Erratica Sandstone Coaster
Coaster design from "Rosa Canina Erratica," an Apophysis fractal by Susan Wallace. Copyright © 2009, Susan Wallace. A digital dogrose blossoms from a looped triangular center in shades of rose pink, sage green and brown.
Created By skellorg
Halloween Monsters Team! Print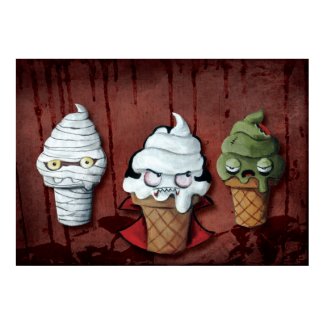 Halloween Monsters Team!
by
colonelle
Browse more
Cartoon vampire Posters
Halloween Monsters Team! 3 cute cartoon Monsters especially for Halloween. We have 3 diffrent flavor of ice cream -egyptian mummy -Vampire Count -rotten zombie All together are making Halloween Ice Cream Team! Enjoy!
Created By colonelle
Bright Butterfly Table Place Card
Bright Butterfly Table Place Card
by
Pixel_Bunneh
Become a
graphic design affiliate
at zazzle.com
Vintage bright butterfly on an antique cream background make lovely place cards for your special occasion. Customize the text any way you need, just click on customize it.
Created By Pixel_Bunneh
If you would like to purchase any of these award winning items, just click on the image you like and you'll be taken to Zazzle to purchase.