My personal TBA favorites from July 24, 2011 :
Retro Circus Greeting Card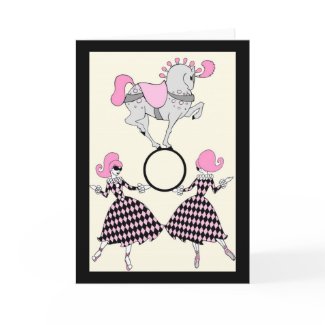 Retro Circus Greeting Card
by
scorpi_oh
Browse more
Circus Cards
Vintage inspired circus card |A talented grey circus pony balances on a hoop held by pink haired harlequin girls. Lovely pink, black and cream color scheme. Personalize the inside with text for that special person.
Created By scorpi_oh
Groom Pin
Groom Todays Best Award 07-24-2011
by
connieszazzle
Shop for a different
button
design
Bask. Glow. The honor is yours to enjoy. Zazzle |Fun for rehearsals, rehearsal dinners, bachelor parties and more.
Created By connieszazzle
Ghost Tote Bags
Ghost
by
chichi_m
Browse other
Artsprojekt Bags
Created By chichi_m
Artists Profile:
About Me: Cristina M. I'm a university student, majoring in Psychology and French. I enjoy drawing in my spare time.
Artistic Interests: Pencil drawing, ink work, western-style comics, painting, Prismacolour markers, writing
Personal Interests: Drawing, writing, psychology, music
Evolve already photo cut outs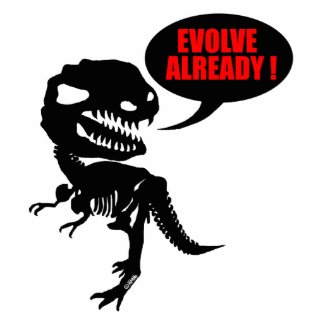 Evolve already
by
NewSignCreation
Join one of the biggest
graphic design affiliate programs
Created By NewSignCreation
Fuchsia & Orange Petals Wedding Invitation
Created By Kimiyo_Prints
Artists Profile:
About Me
: R. Kimiyo - My site is dedicated to my grandmother who was a spirited woman with amazing artistic abilities and a great sense of humor. I strive to be as feisty and full of life as she was. I have a degree in both interior design and graphic design. I worked as a kitchen and bathroom designer for 6 years before becoming a graphic designer. Design in all forms is my passion. I currently specialize in packaging design, but enjoy all aspects of design. I am available for personal or freelance design projects. Feel free to contact me for more information.
Artistic Interests:
I love sculpting. I hope to some day have the opportunity to take some glass blowing and metal work classes and sculpt in my retirement...you know when I'm 80. ; )
Belle and Night - fantasy rainbow goth unicorn Ipod Touch Cases
Belle and Night - fantasy rainbow goth unicorn
by
Danceofwhitestag
Become a part of Zazzle's
ipad affiliate program
Rainbow haired fairy maiden with unicorn. Fantasy fairy maiden with unicorn.
Created By Danceofwhitestag
Artists Profile:
About Me
: My name is Terra Bidlespacher (pronounced Buy-Dell-Spock-Er) I am a self taught and self representing artist and I'm always trying to further my technique and skill. I have pieces in collections all over the world. I've been published and have been honored with many awards. My artwork is heavily influenced by fantasy with fairy, steampunk, mermaid and pirate themes.
Personal Interests :
painting, drawing, sca,
Puppy Stickers
Puppy
by
igorsin
Join Zazzle's
artist affiliate program
Created By igorsin
BMX Grunge Print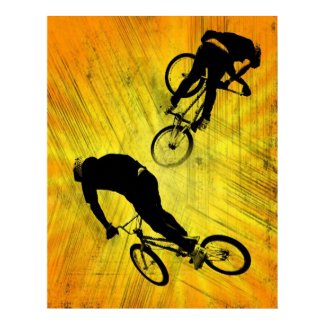 BMX GRUNGE, Copyright Karen J Williams
by
KJWPhotography
Browse more
Bmx Posters
Copyright Karen J Williams | BMX Bikes.
Created By KJWPhotography
Artists Profile:
About Me :
I am a wife and mom of three. Love where I am at right now and thankful for that.
Artistic Interests:
I love creating in any medium. I find new inspiration for my work in my everyday life. Kids are great for that.
Personal Interests:
My Family, Art, Photography, friends and fun...
Petals and Wings IV Posters
Petals and Wings IV
by
yesterdaysgirl
sell my posters online
at Zazzle.
Original art by Mindy Sommers, copyright 2011, all rights reserved.
Created By yesterdaysgirl
Artists Profile:
About Me:
Professional artist; printer of fine art on upscale art gifts and home decor products through Color Bakery (www.colorbakery.com). I am also a licensed artist, working exclusively through Applejack Art Partners of Vermont and New York. Through ColorBakery.com, my work is available on high end home decor (custom tile, tile murals, tile floors in glass, stone and ceramic) as well as serving trays, clocks, table linens, etc. As a licensed artist, my art can be found in Bed Bath and Beyond, Macy's, etc on products ranging from area rugs, dishes, tabletop to gift items.
Artistic Interests:
Digital art, fractal art, impressionist art. Art Nouveau was, by far, the most glorious period. Adore Mucha, Van Gogh, Maxfield Parrish, Monet. Cubism, Dadaism: bleh. Favorite writers: JD Salinger and Tennessee Williams, Somerset Maughm, and yeah, Stephen King will prove to be one of the greats, too. Oh, and Edith Wharton. Love "The Office", both UK and US. Collector of fine art and vintage art. Most rewarding pastime: helping other artists pursue their dreams. Most exciting moment: the first time I saw my art on a six foot glass mural. It was so wonderful. Creating art is better than chocolate or even Zoloft. ;)
Personal Interests
Love purple--every room in our home is purple, and even our house is painted purple. The neighbors, shockingly, love it. Love cats, have two, a real cliche here. But I adore them. Joyfully married to a man who's perfect for me. Worship Sinatra, Sting and Steely Dan. Wuthering Heights' opening credits make me cry, as does The Piano's, but my favorite movie is The Godfather ("Leave the gun, take the cannoli."). Computer geek. Sentimental slob hides beneath a not always delicate tongue. Love true crime books, spiritual stuff (Seth Speaks had a big impact on me) and anything about UFO's.
If you would like to purchase any of these award winning items, just click on the image you like and you'll be taken to Zazzle to purchase.